In the past months, thee amazing new team members started on the project. Below, they introduce themselves and their work.
Matthia Sabatelli (University of Liège)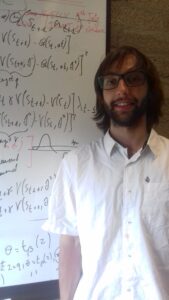 I am working on the INSIGHT project from the Walloon part of the country where I am currently a PhD candidate in Machine Learning at the University of Liege, under the supervision of Dr. Pierre Geurts. Before that, I received my Master of Science in Artificial Intelligence (AI) from the University of Groningen in the Netherlands. My main research interests lie in the study of Deep Artificial Neural Networks where I am trying to gain insights about what makes these complex algorithms be such a successful and powerful tool in the fields of AI and Computer Vision. This understanding is then used within the INSIGHT project to build a new generation of machine learning based tools that can enrich heritage collections. Next to that, I am fascinated by the capabilities that Deep Neural Networks have in developing the most varied creative skills, ranging from the generation of artificial art, to the evolution of creative strategies that allow them to master video and board-games. More particularly, I investigate these creative processes from a Deep Reinforcement Learning perspective where I try to understand what makes Deep Neural Networks develop such original policies.
Odile Keromnes (Royal Museums of Fine Arts of Belgium)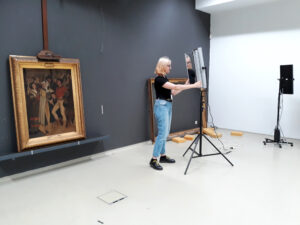 Odile Keromnes is a young half-French half-German photographer, who lives in Brussels. Her two main passions are photography and museums. For that reason she studied art history at the university before entering the Ecole Nationale Supérieure Louis-Lumière in Paris, where she did a Master's Degree in Photography. In this technical school, she specialized in cultural heritage digitization, doing internships in the C2RMF laboratory at the Louvre and in the photographic service of the Centre Pompidou. Now she is able to combine her two passions, working for the Royal Museums of Fine Arts of Belgium as a technical specialist for the Photographic Service. She will contribute to INSIGHT by tackling the more technical aspects of cultural heritage digitization. Her background in art history will allow her to do quality control on the first results of the AI algorithms. She will participate in the encoding of missing data for the pilot. Her work will also include the digitization of more works of art, which will enrich the project with new pictures, giving the AI more material to analyze.
Nikolay Banari (University of Antwerp)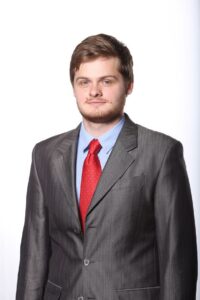 I studied applied mathematics and physics at Moscow Institute of Physics and Technology and artificial intelligence at KU Leuven. When I was a student, I taught mathematics and physics on a part-time basis for children seeking admission to universities. Also, I worked as a Data Analyst at Forum Investment Company. Nowadays, I am a PhD researcher at University of Antwerp. I have research experience in image processing. My general scientific interests lie with the intersection of machine learning and humanities. I find the idea of applying machine learning algorithms in humanities very promising.